Meet the Grantmakers: Funding for Individual Artists – Event Recap
By Michelle Lynch
When I first started working in arts fundraising, the space between my grant application and the funder – much less the grant panel – seemed vast and unknown. What if I have a nuanced question that isn't addressed in the guidelines? How am I supposed to write something if I have no idea who my audience is?
Then, I started meeting some of these …duh, duh, duh… grantmakers. And, I had the chance to sit as a panelist on a couple of grant reviews. The people and process began to be somewhat more transparent, less opaque and fraught with unknowns. Somewhat.
On Thursday, October 17 at Pro Arts in Oakland, EAP joined up with Pro Arts and the Foundation Center to present "Meet the Grantmakers: Funding for Individual Artists." In a panel led by Sarah Jo Neubauer from the Foundation Center, we got to hear from representatives from four important funding sources for Bay Area individual artists.
The panelists were Frances Phillips (Creative Work Fund), Diane Sanchez (East Bay Community Foundation), Denise Pate-Pearson (City of Oakland), and Lily Kharrazi (California Alliance for Traditional Arts). It was a mighty powerful group of women, all clearly passionate and thoughtful when it comes to supporting artists in meaningful ways.
While time was spent at the panel going over the guidelines of each grant opportunity, I'd like to highlight here a handful of the biggest takeaways for me.
Tips and Best Practices
Ask questions.
While all four women emphasized to review guidelines thoroughly first, they all encouraged questions. Denise Pate-Pearson from the City of Oakland prefers email correspondence, but the other three were happy to receive phone calls. It saves them time, as well as you, to know if you're ineligible or not a good fit before going through the trouble of preparing an application.
Work samples mean a lot.
Lily Kharrazi from ACTA even went so far to say that work samples were the most important piece of a grant application. Mediocre writing, or writing that is clearly written by someone for whom English is their second language, can be overlooked when the artistic excellence is apparent in a work sample. Which is not to say that the writing isn't incredibly important, but rather to emphasize the value of a good work sample. One that demonstrates – quickly – that you are an artist with a vision worth supporting. So, please, as online links are getting more common, make sure it's the right link, that it isn't password protected, and that it is as high definition as possible.
Your budget isn't just about money.
I think it was Lily Kharrazi who pointed out that a lot of values are expressed in a budget. In particular, all of the panelists emphasized how important it is to see the artists paying themselves and each other well. They have devoted their careers to providing funds to artists; the value of your work and your time should be reflected in your budget. It shouldn't all be production and technical costs.
Grant Review Process
A lot of care is taken when selecting panelists.
For all of these funders, grant applications are reviewed by a "panel," which is typically a hand-selected group of experts and peers who read all of the proposals and then meet together to discuss them and decide who should get the grants. Panels are common but not constant; some foundations have their Board of Directors select grantees, and others' decisions come straight from the staff. They also come with pros and cons. On the one hand, panels can mean that there is a diversity of perspectives of whom is reviewing your grant application, creating greater equity. On the other hand, your prospects for getting a grant are hard to predict since it really depends on who's on the panel and how they may interpret the grant guidelines and then how your work fits within those guidelines. So, you can see that "knowing your audience" can be hard for panel-based review processes.
But, we can all take solace from the fact that this cohort of funders (and surely many others) put a lot of consideration into who is invited to sit on a grant review panel. For example, both Diane Sanchez from the East Bay Community Foundation and Frances Phillips from the Creative Work Fund wait to select some of the panelists until they review the grant applications. That way they can tailor the panel to the trends in the applications. If one year brings more representation from a certain region or style, they can find an expert panelist.
Other considerations are cultural, ethnic and experiential diversity. The City of Oakland panels include practicing artists, who can identify with the needs and experiences of the applicants. The Creative Work Fund tries to identify panelists from both urban and rural places. Frances Phillips described her process of selecting a panel as like hosting a dinner party: she wants to find guests that will get along, bring interesting and divergent perspectives and who will listen and engage deeply.
Learn More from the Inside Out
Be on a panel.
I can speak from experience that being on a grant panel is a hugely educational experience that may greatly impact your grant-writing ability and confidence. You get to think and talk a lot about what makes one project more "fundable" than another. In reading and reviewing scores of applications, you begin to see the common assumptions or holes. Does the narrative not really paint a picture of what the work might be like? Is the writer assuming that you are familiar with their work? Is the budget based on 90% ticket sales in a theater twice the size of their last show? Plus, being on a panel is a fantastic networking opportunity. And, lunch is free.
Additional Resources
The entire month of October is Funding for Arts Month at the Foundation Center, so there is much to learn and resources to take advantage of. In fact, the Foundation Center published their own blog post about the event at Pro Arts with some of their notes. There are also many more resources on grants and resources for artists on the EAP hackpad, accessible here.
.
——————————– .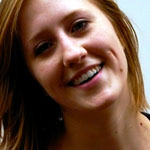 Michelle Lynch is San Francisco-based arts professional and curator; she currently serves as program director of Dancers' Group. She came to the Bay Area from her native Pennsylvania in 2005 to pursue a career in dance. Since then she has performed with Kelly Kemp, the peck peck dance ensemble, and other independent choreographers as well as presented work at ODC Theater, CounterPULSE, The Garage, and the Red Poppy Art House. Michelle has worked as an arts fundraising consultant and grant writer, and was the curator of dance programming at Meridian Gallery from 2009-12. She was a fellow with the San Francisco Bay Area Emerging Arts Professionals from 2010-11. Michelle received her BA in Dance and International Studies from Goucher College in Baltimore and an MA in Dance Theatre: the Body in Performance from the Trinity Laban Conservatiore of Music and Dance in London. Michelle is a member of Trio, a loosely London-based experimental performance collective.
——————————–
Coming Up Next – ProArts, Foundation Center and EAP are hosting yet another collaborative event –  titled Speed Networking for Artists and Arts Organizations  - it would be yet another chance to meet fellow artists and art administrations from the bay area.   This event is free.   For more information visit the event page here. 
Meet and greet today Thursday October 24th – Registration starts at 5:30pm at ProArts.